1966 Chevelle SS 396
This is a rare one – a completely unmolested 1966 Chevelle SS 396.
The car is located in Alabama and the current owner says the car has been parked in the garage since 1991 – 28 years!
This Chevelle has very few juvenile modifications, aside from the hood pins that have been removed from the front of the very nice hood. What a shame – looks like someone will have to do a little mig welding to patch up those holes!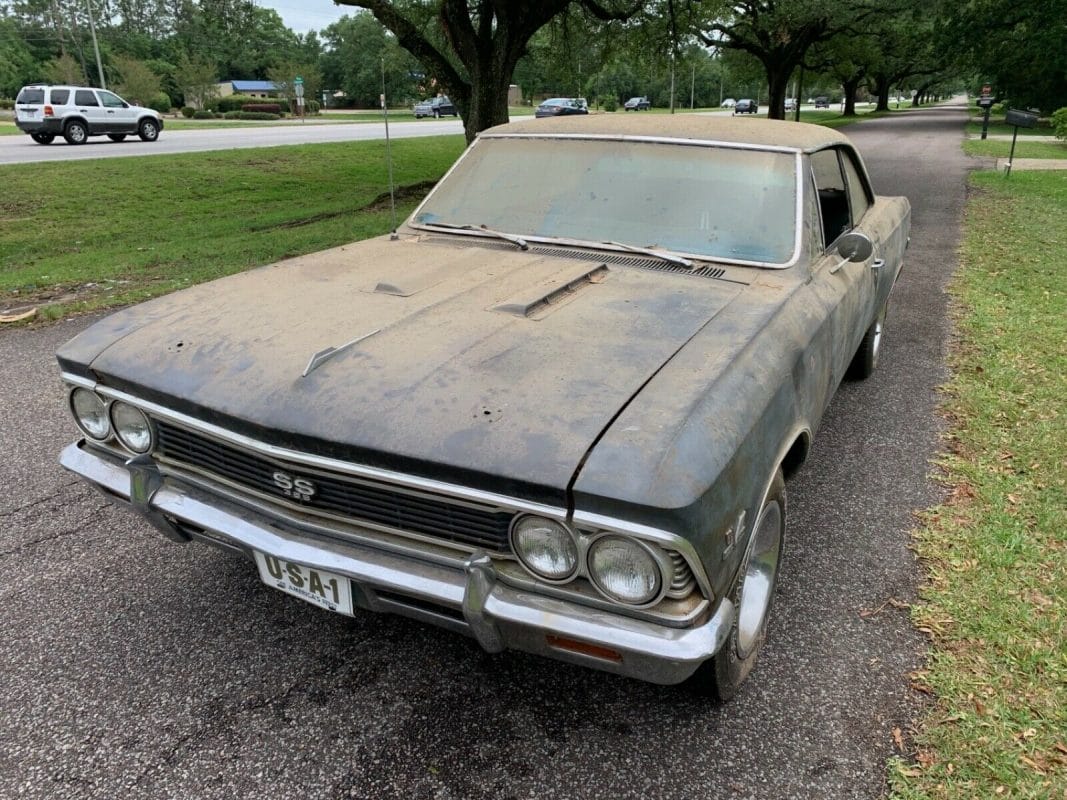 There doesn't seem to be much real heavy body rust – aside from a healthy coating on the underside.
While you can't see the rockers due to the trim, there looks to be a little rust peeking out from under the passenger door. As time goes by, original survivors like this continue to age and bad things happen. This is why we as car lovers and restorers must learn how to repair rusty parts – a skill that can be learned! And, all things considered, there's not a lot of obvious rust-through here.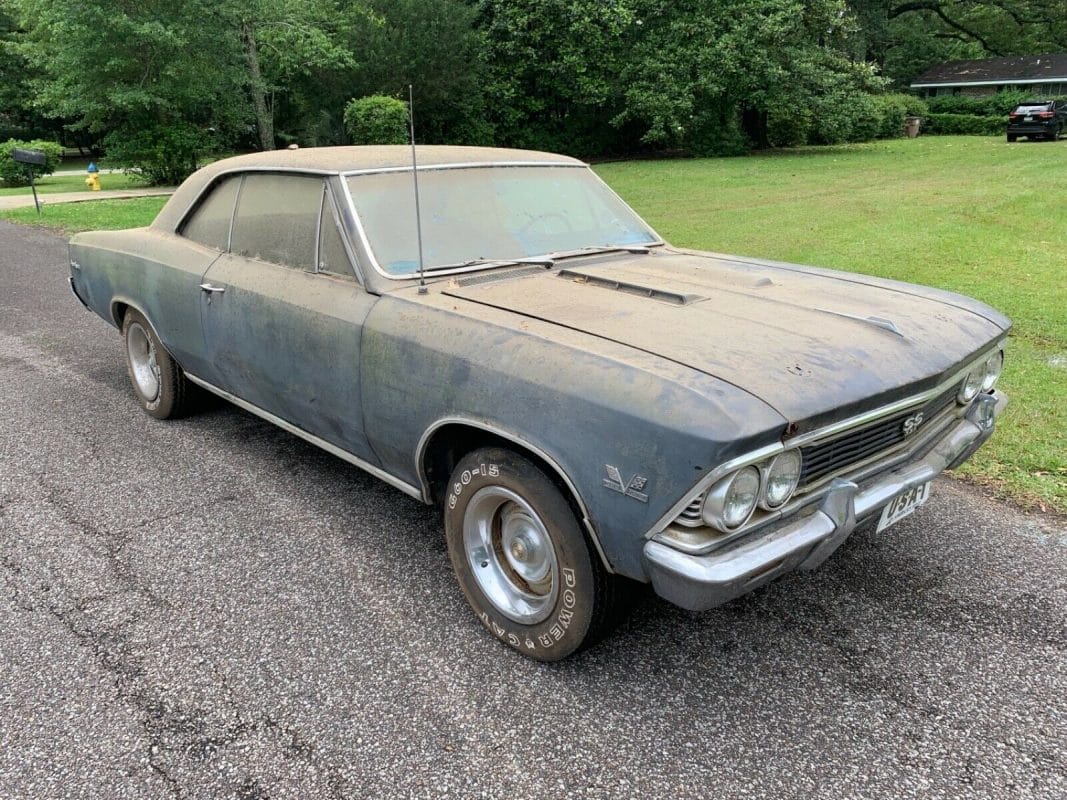 This Chevelle looks to be wearing its original factory body panels, as the paint patina looks to be fairly consistent throughout. There shouldn't be any body damage surprises if you decide to strip off the old paint.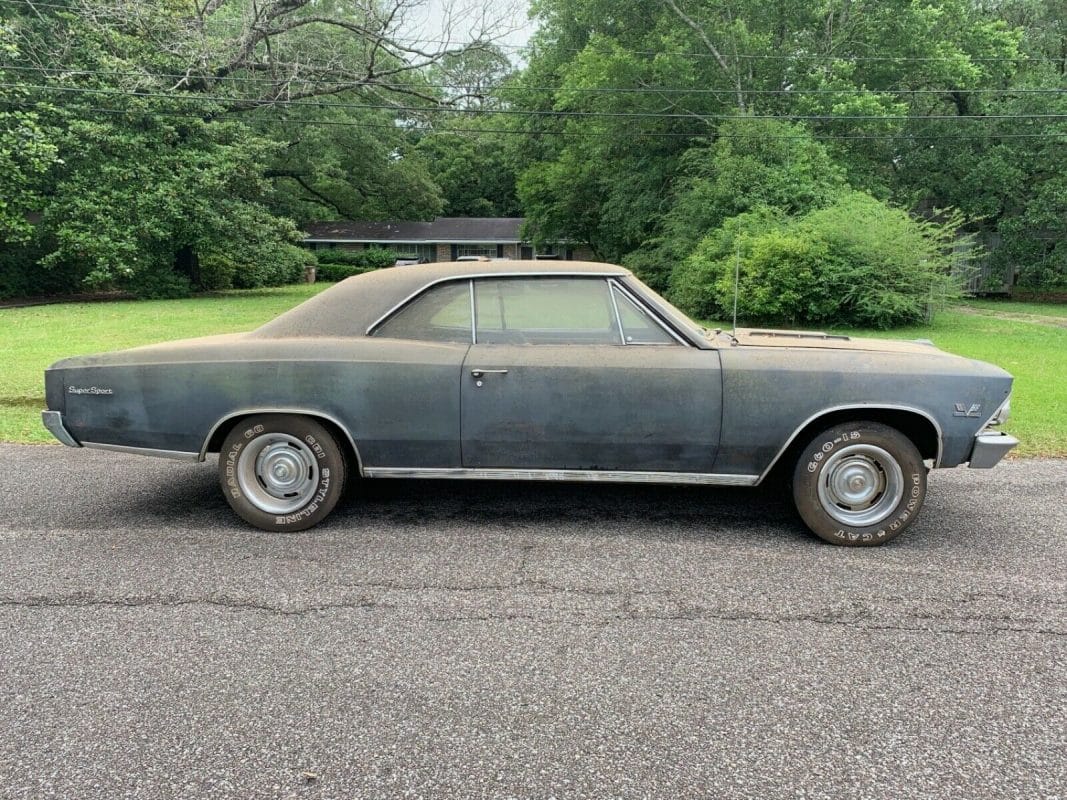 From the rear, the Chevelle appears to be in great shape. As is common from most of the GM intermediates of these years (Pontiac Tempest/Lemans/GTO, Oldsmobile Cutlass/442 and Buick Skylark), at the base of the rear window sits a channel that holds water. They all usually rust out, but new deck panels are made that they're a perfect replacement. I wonder if this 1966 Chevelle SS 396 has a rust issue there?
As you would expect, the interior looks to be all of its 53 years – and more.
All the interior side panels are missing, although new, exact reproductions are made. In reality, you'd still have to replace them all if they were still in the car. On a personal note, the interior color is a Tropical Turquoise, a personal favorite. That turquoise compliments a turquoise exterior that I hope the new owner keeps!
Good news – original seats are present! If you had to buy them, that would be a costly exercise.
The owner states the car has the original teakwood steering wheel. I'm not 100% sure it has the original wheel – looks like molded plastic aftermarket to me.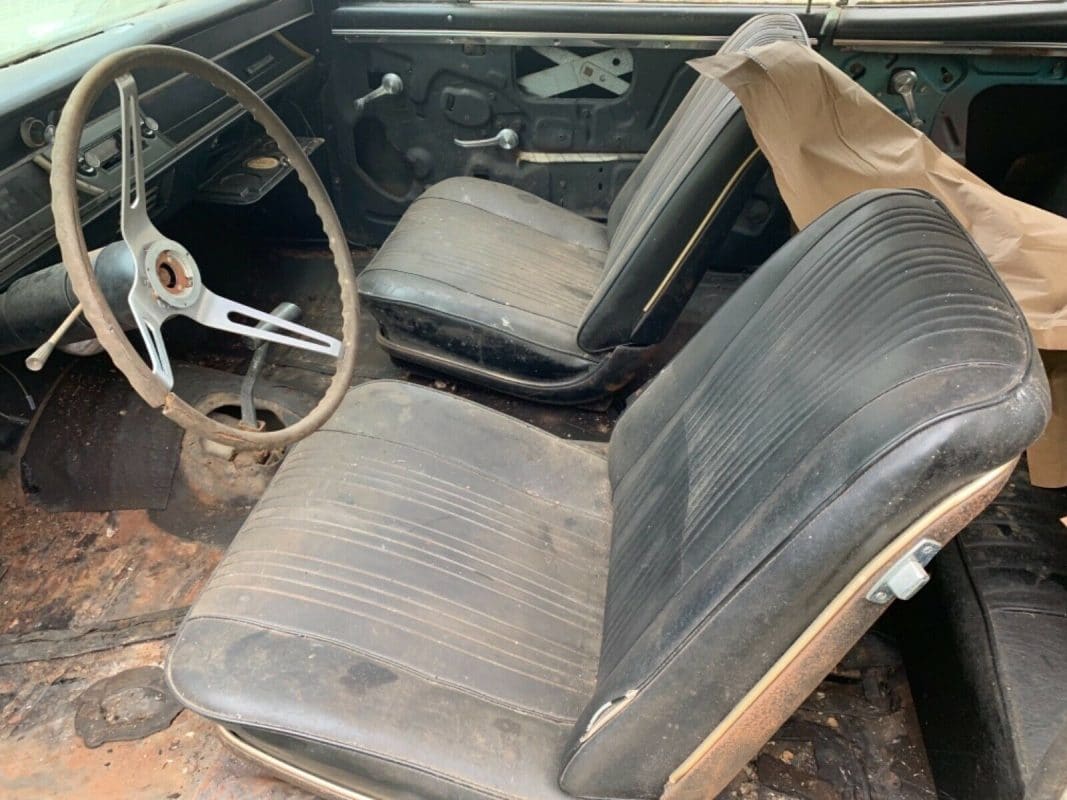 The owner also says the car has a correct-for-1966 396 Chevrolet engine that is correct for the 4-speed manual transmission as well, although he can't be sure it's the original engine that came with the car. He doesn't say where the engine turns – I would suspect that after 28 years of storage in a moist environment like Alabama that the engine would have some internal rust. If the engine would turn over, I'll bet they would have mentioned that important fact!
The engine does have some aftermarket speed goodies – an aluminum intake manifold, finned aluminum valve covers and  the chrome air cleaner. All these items would have to be sourced and replaced to match the originality of this old Chevelle.
A couple things this Chevelle is lacking that would make life much easier – power steering and power brakes. Without these nice options, this powerful Chevelle car can be quite a handful on the road.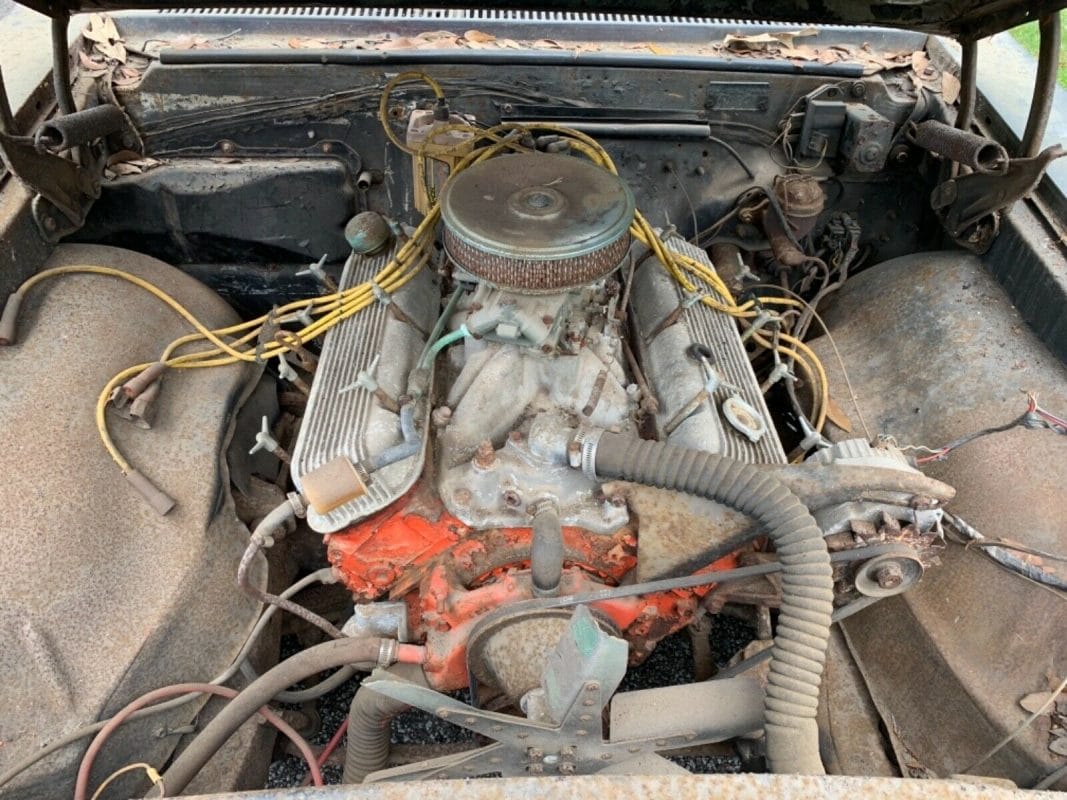 There is a little bit of rust on the driver's floor. Even though the owner says it was in covered storage, you can assume the other floor pans probably need some patching.
One area we can't see is inside the trunk. If the rear window base rusted out and water has gotten in the trunk, that there could be a rusty mess there. Very common to have a rusted trunk on these cars.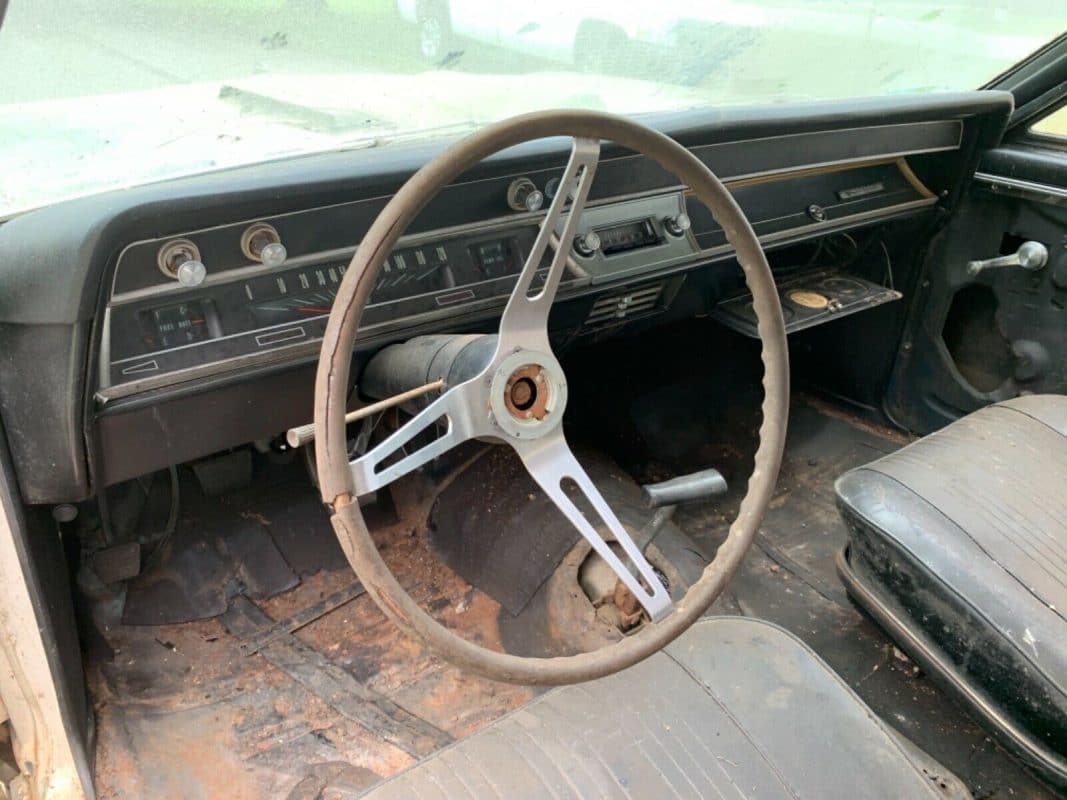 The underside has lots of surface rust, but nothing appears to be rusted through – or even structurally compromised. It would be a great idea to look at this 1966 Chevelle in person before purchase – to avoid unpleasant surprises.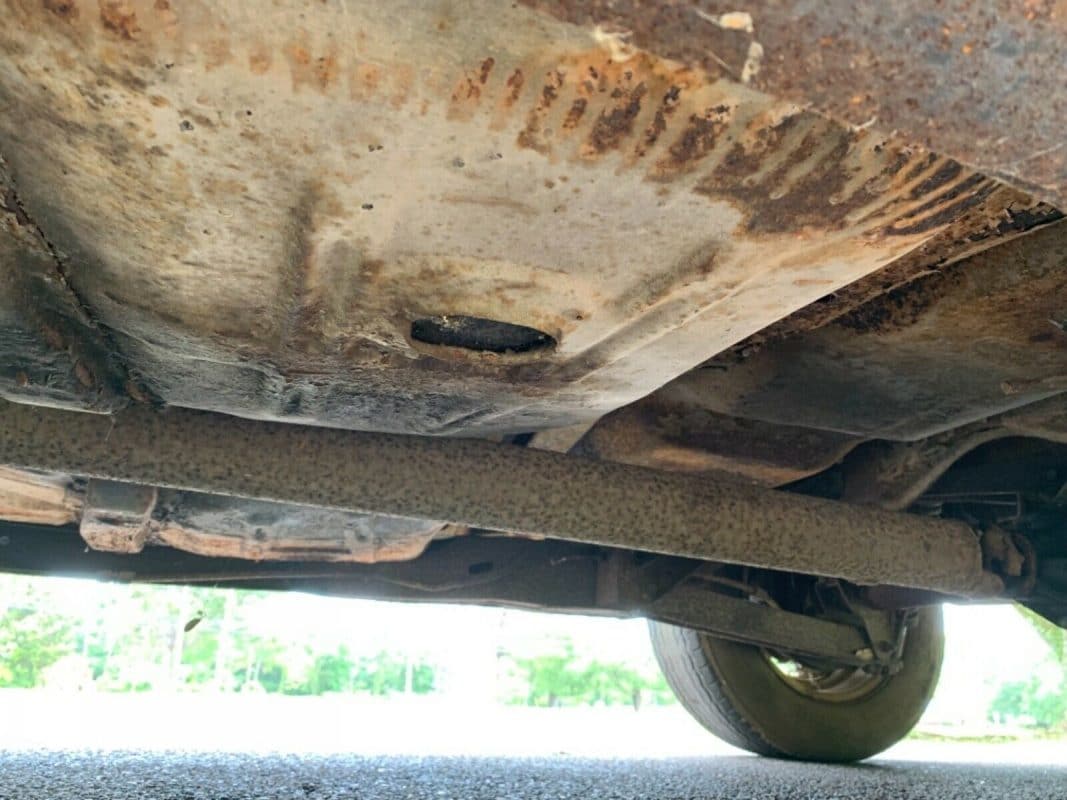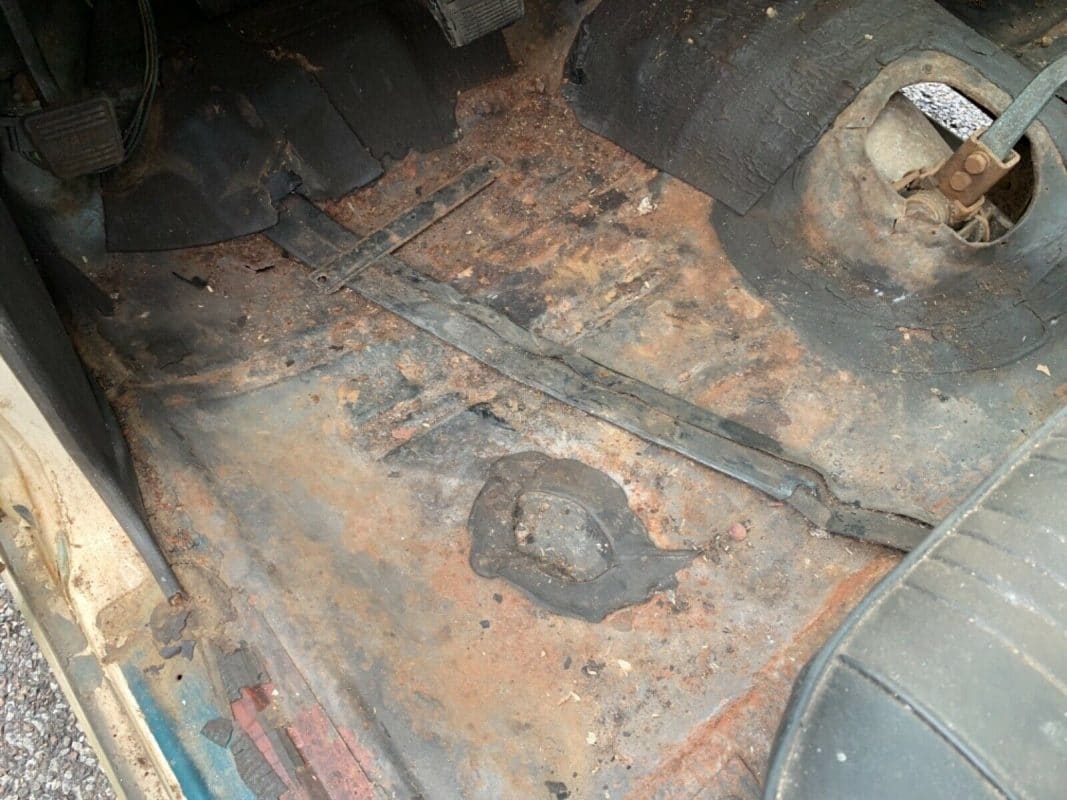 All in all, a very nice original 1966 Chevelle SS 396. A personal inspection would be a great idea, and you should confirm, through the VIN, that this car is represented correctly.