A lot of confusion exists these days (still) – what exactly is a hot rod?
You may already have your own definition, but according to Urban Dictionary a hot rod goes like this:
"A fast car, mostly home-built from the 20's to the 40's A 1932 Ford highboy roadster is the (quintessential) hot rod."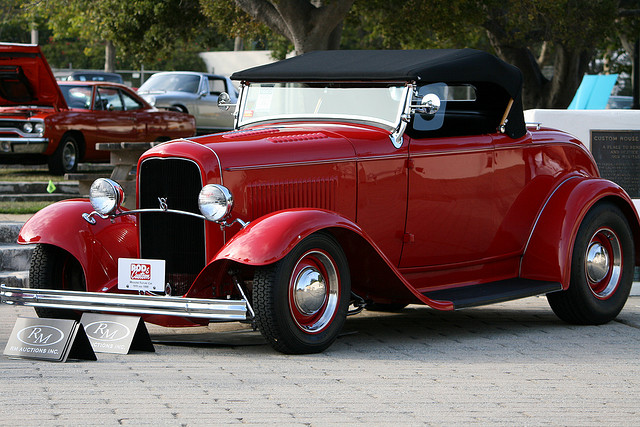 I think the 1932 Ford Roadster as shown above pretty much fits the bill for a hot rod – don't you?
Of course, it doesn't hurt that the "bones" of the soon-to-be hot rod was a good performer even when new. Like the 1932 Ford Roadster, it came from the factory with a 65 horsepower flathead V8 and was a great performer when new.  It was a light car with a good engine – much like today's hot rods. Essentially, the 1932 Fords started the hot rod craze in the late 1940's and has just gotten more popular as time has passed.
Fords not your cup of tea?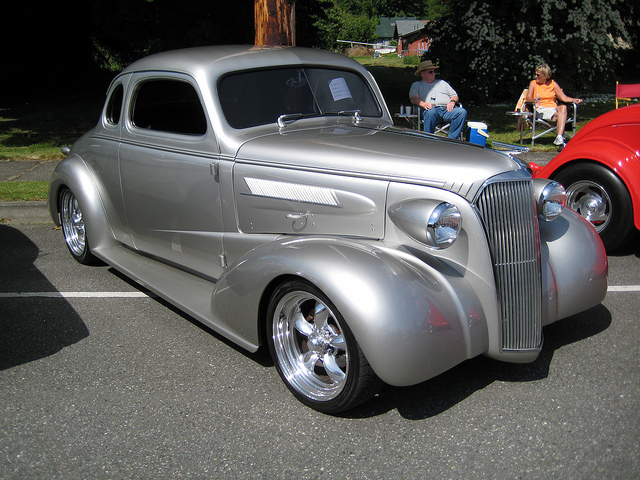 There's always a Chevy ready to jump into your hot-rodder's hears – like the silver 1937 Chevrolet 5-window coupe. Great lines (as had most 1930's cars) and plenty of room in the engine bay for that famous Chevy small-block V8.
Improved suspension and steering, newer, more powerful engines and flash paint jobs are practically requirements of a modern hot rod. As the hot rod owners age, creature comforts abound. Power steering, power brakes (a must, really – have you ever driven an ols car with original brakes? Scary), automatic transmissions are only the start of what you can do to make a comfortable, fast and beautiful modern hot rod.
Creature comforts that the early '50's rodders couldn't have even dreamed of to add to their rods – air conditioning, power windows and door locks, fuel injection and modern iPod powered sound systems are only a few of the ways you can have your cake – and eat it too!
The question you might be asking yourself now is – "Should I build my own or should I but an already-built hot rod?
Unless you're really good with your hands, have a great shop with all the tools and have pocketfuls of cash just waiting to spend, I'd personally look towards an already-built hot rod.
Nowadays the modern hot rod may likely have been built from a kit – fiberglass or steel. Many are purpose-built from the ground up as a hot rod and I have to say that generally, the quality is excellent. Plus, these modern-day hot rods have built-in saftet and reliability – something that you may have to work for if you're building from scratch.
If you really must have the real thing, know that as original owners age out of the hobby, plenty of great hot rods are on the market right now. Naturally, build quality does vary quite a bit, but bring a well-versed buddy with you when you go have a look at a potential rod (better yet – hire a professional car inspector) to check it out just to be sure it's been put together well and is safe to drive.
Then, go have some fun!

Photo Credits: