1965 Oldsmobile 4-4-2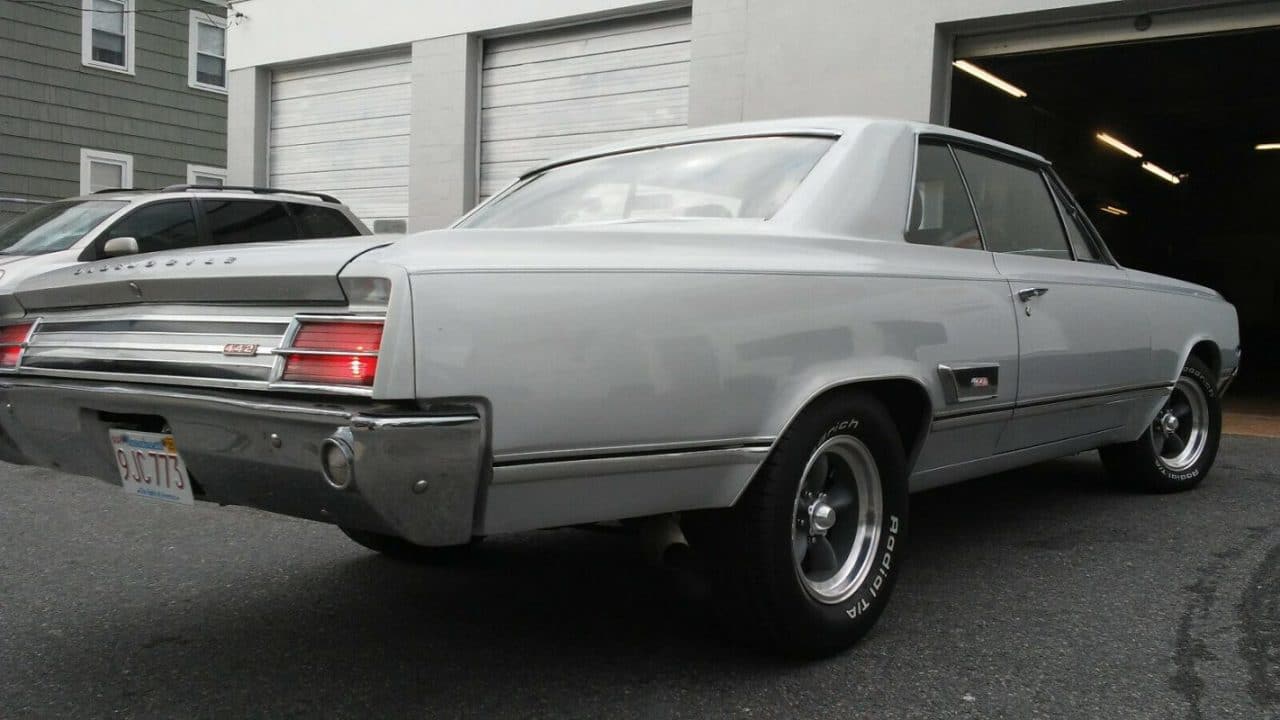 The Oldsmobile 4-4-2 was one of the original GM muscle cars, built from 1964 to 1987. The "442" meant four barrel carburetor, 4-speed transmission and dual exhausts. The "4-4-2" was hyphenated until 1968, when it became just plain 442.  The 4-4-2 was a trim and hardware option for the Oldsmobile Cutlass, very similar to the GTO option for the Pontiac Tempest..
Hot on the tail of the smash-hit Pontiac GTO, the 4-4-2 was a car to reckon with as  it originally equipped with the Oldsmobile 330 C.i.d V8 with 310 horsepower. Bigger, more powerful engines came later. For the day it was fast, quick and good-looking.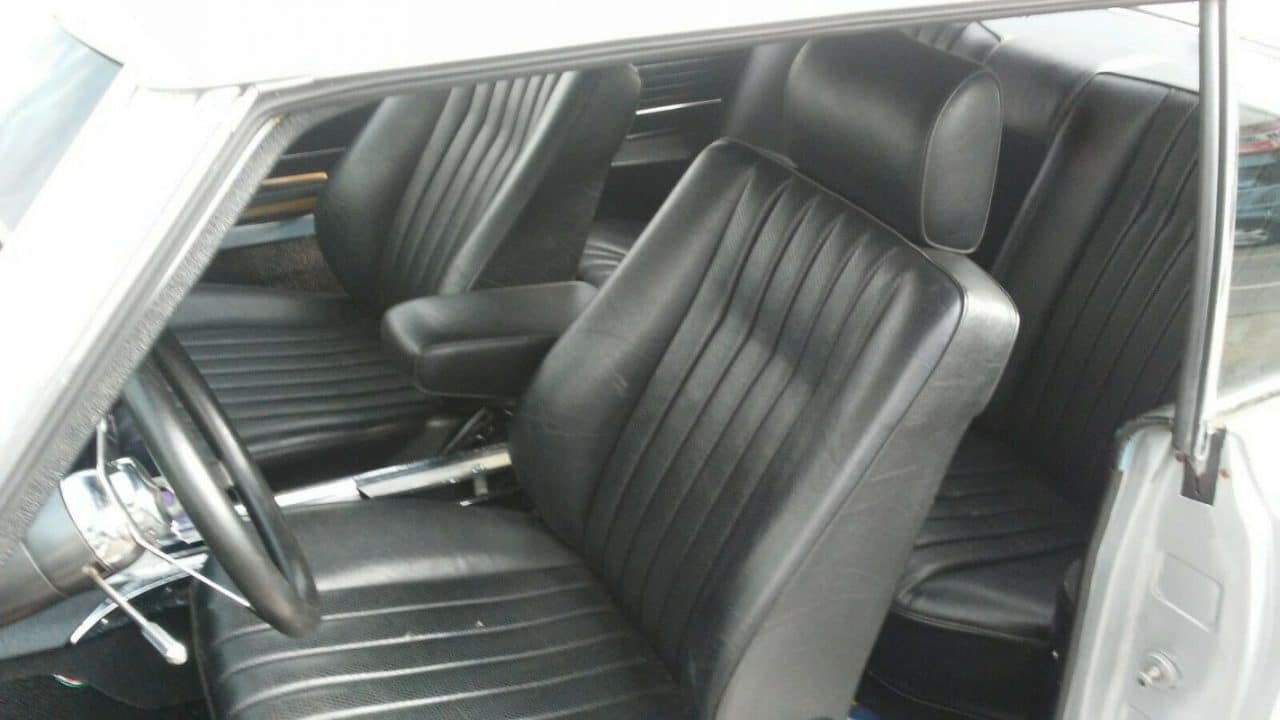 See More Oldsmobile 442s HERE!

I wanted to showcase this 4-4-2 as an example of what to look out for when buying old cars.
To begin with, this 1965 Oldsmobile 4-4-2 looks pretty solid, with some decent paint and a nice fitment of body panels – mostly.
With a fully-painted body, it's hard to see what's been fixed below. Sometimes you can see the results of poor body work in the paint- wavy lines, etc.  From the photos, we really can't tell much about the quality below. If you're interested in this car, you really should arrange an in-person visit to make sure it's as solid as it looks.
This car is from Massachusetts so you could assume there's probably some rust repair beneath that paint – somewhere. We'll get to that a little later. First, let's check out some details.



Interior Modifications
But I wanted to get to a few items that you can see. Take the interior for example.  Notice that someone has replaced the original low-back bucket seats with modern high-backed seats. IMHO, this really can downgrade a nice car and lowers the price. I also think that modern seats just don't look great in these old muscle cars. Do you agree?
Can you imagine how difficult it will be to find original buckets?
Next on the gripe list is the steering wheel. The original steering wheel was tossed and replaced with this cheap ricky-racer wheel. I think it looks cheap and it downgrades the interior – like the high-back buckets. The interior modifications also make the car worth less.
Figure on spending some time and dollars locating a correct steering wheel for this 1965 Oldsmobile 4-4-2.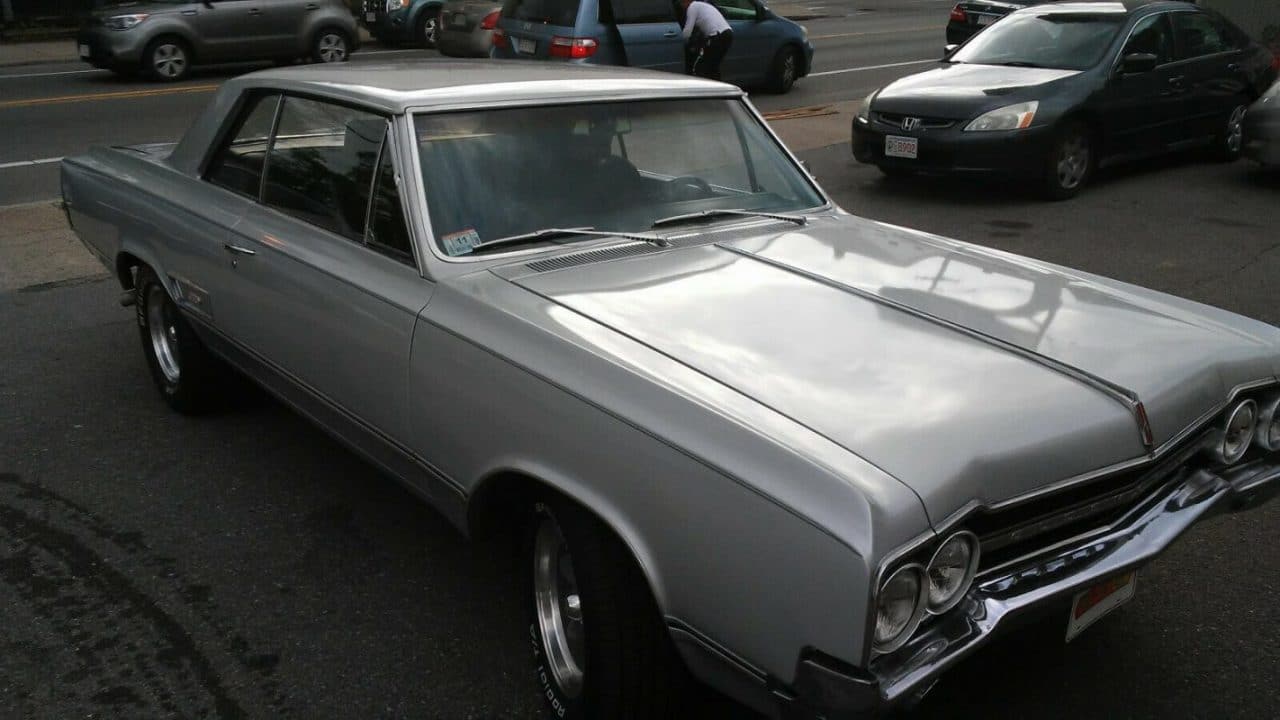 This next image is a lot more disturbing. It's a picture of the frame, up front, near the engine. What bothers me is the number (and apparent depth) of rust pock-marks, especially near the bottom of the frame. The frame looks to have been cleaned and painted at one time, but there's no mistaking the rust. This is some heavy rust, typical of East-coast cars.
If the rust is heavy here – are there other, more hidden, places that the rust is worse? This is why I think you should have an expert inspect this car if you're really interested.