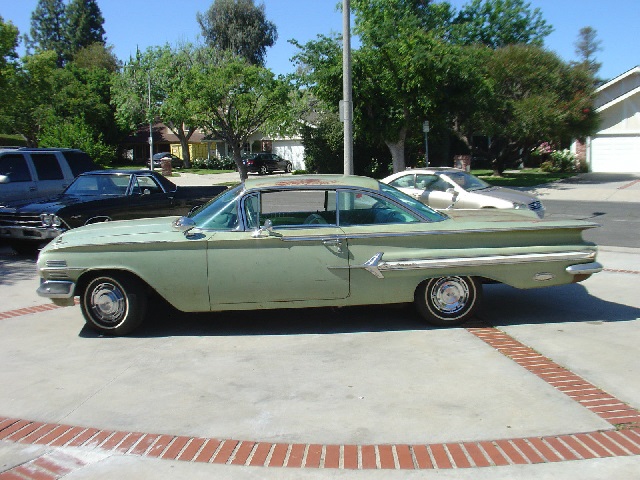 It used to be that the 1961 Chevrolet Impala stole all the air in the room. And the wild, bat-wing 1959 and 1960 Impalas were like red-headed step children, but that's just not the case anymore. The 1960 Impalas, like this fine example, can stand on its own.
While definitely the end of an era, and (arguably) not as cleanly-styled as those Impalas that followed, the 1960 Chevrolet Impala that you see here needs no apologies at all.
This 1960 Impala is a really nice bubble-top that appears to be wearing its original Aspen Green that was applied in 1960. It looks to be not modified or messed with in any way at all – that's amazing to see something like this these days.
You can see the body's original condition – no fillers or fixes that we can see, just an honest car!
While this Impala has a small-block V8, it could have come with the 235 ci Hy-Thrify 6-cylinder with 135 horsepower and 217 ft-lbs of torque (and great gas mileage). Or, more than likely, it had the famous 283 ci Turbo Fire small block V8 with 170 horsepower and 275 ft-lbs of torque. Probably the best overall engine choice in terms of performance and fuel economy.
Or, it could have been ordered with the 348 ci Turbo Thrust big block V8 with 320 horsepower and 358 ft-lbs of torque for a 0-60 mph of around 7.5 seconds with a 4-speed manual transmission.
The famous 409 engine, a development of the 348, would be available for 1961.
Speaking of transmissions, the possibilities in 1960 were a 3-speed column-shifted manual. 2-speed Powerglide automatic or 4-speed manual, floor mounted for maximum performance and control.



Now, these old Impalas are great collector cars and even though the 1960 isn't as outrageous as the 1959's, it still presents a really nice, simple and easy to work on cruiser from the old days.
See More Impalas HERE!