Chevrolet Nova – A Timeless Classic
The Chevrolet Nova was designed and rushed into production in 1962 because the Corvair was less successful that Chervolet had hoped for, and Chevy needed a successful compact to compete with Ford's massively successful Falcon.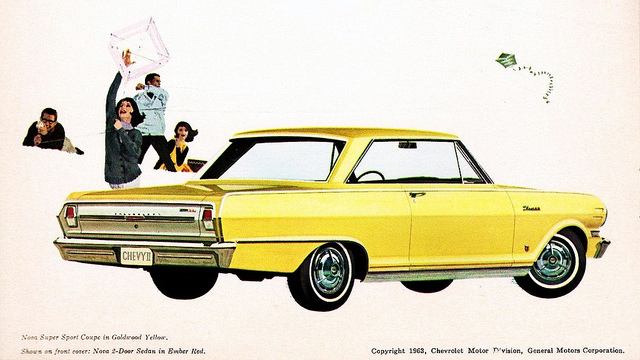 Also the Corvair, while sporty, economical and modestly successful, was very expensive to build, and Chevy could see the writing on the wall in the need for a conventional compact.
[wordbay]1964 nova[/wordbay]
The Nova was a plainly-styled but sturdily built conventional front engine, rear wheel driven American compact first known as the Chevy II (Chevy two). The Nova was designed to compete with the Ford Falcon, the AMC Rambler (after a fashion) and the Plymouth Valiant.
The Nova initially was fitted with a four-cylinder engine and 3-speed transmission, with six-cylinder engines and automatic transmissions optional. Later in the Nova's life the famous Chevrolet small-block V-8 engine was optional as well, so the Nova could be a hot little sprortster with a rumbling V-8 engine, in addition to a gas-sipping grocery-getter for mom and the kids.
As the years passed the Nova grew in length and weight, the four cylinder engine option disappeared as did the station wagon versions and convertibles.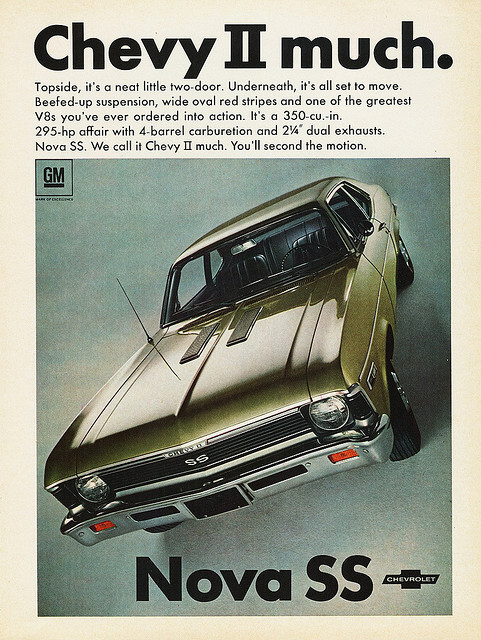 But the Nova's mission in life never did change – to be a small, low-cost reliable and well-built transportation appliance for those who did not want a big, expensive car. And the Nova filled that role well.
The American-built Nova disappeared after model year 1979, to be replaced by the front-drive Citation. But thanks to the Nova's timeless size, multitude of power options and sturdy build, almost two decades of this sharply-styled American built compacts still roam the world, and this is very fortunate for those of us who are Chervolet Nova enthusiasts.
Photo Credit to Alden Jewell