It's the car restoration from hell, this 1967 Pontiac Tempest Custom. Practically everything that can go wrong has gone wrong since I started a while back to make some minor body repairs and repaint the car.
Here's what it looked like the day after I drove it home from Greeley, CO.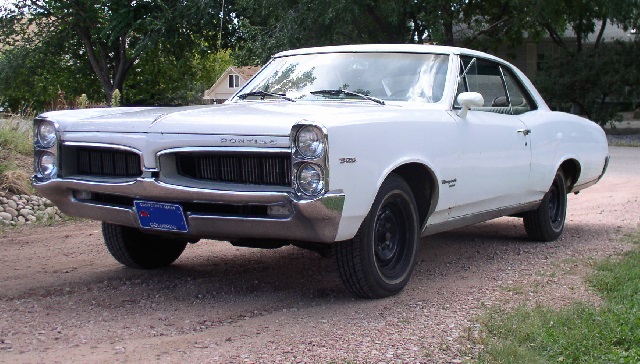 A friend and I were at a swap meet in Loveland, CO that fateful day and decided to drive through Greeley just for fun. And there she sat, all alone in an empty lot looking lonely and forlone with her K-mart plastic wheel covers looking wildly out of place and a "For Sale" sign on the windshield. You won't see them in any photos as I threw those hideous things away as soon as I got home.
We motored over for a look and I was ecstatic to see a Tempest Custom with hardly any juvenile modifications, save for a chrome-plated cowl (fortunately a bolt-on that went bye-bye on eBay shortly after purchase) and those hideous hubcaps.
Almost a true "barn find," at least in thought.
I called the number on the sign and found that it belonged to a woman in town who'd owned it for at least 20 years, and boy, did it have a story behind it! It was also very reasonably priced! She agreed to meet us in the parking lot in a few minutes.
The woman, Christine, had owned the car with her boyfriend and years ago they did some restoration on it. They had the engine, a 326 2-bbl, rebuilt, replaced the powerglide with a 3-speed turbo-hydramatic, and had the car painted. They enjoyed it for many years, but the fun went out of the car for Christine when her boyfriend suddenly died several years back. The Tempest sat in her carport through a couple of snowy years, with the rear end sticking out in the weather – more on that later.
I was absolutely delighted to find out it was an original V8 car with power steering and factory disc brakes. Plain-Jane bench seats covered in acres of turquoise vinyl with column shifter – that's it for options. I was astounded that the Tempest hadn't been converted to a GTO – has to be a pretty rare bird like this I thought.
I did notice some bodywork along the sides that needed attention, plus the lower rear quarters of the front fenders had some rust-through (GM never did figure out how to properly drain fenders in those days). Otherwise, aside from a pretty poor paint job (clear coat peeling off for starters) she looked pretty good.
Christine handed me the keys and I was, once again, delighted to hear the purr of a big Pontiac V8 engine under the hood, and I was off! A few turns through the empty downtown Greeley streets convinced me that this Tempest was the real deal and I was going to have her!
I made a deal for less than the purchase price (nice!) and, wonder of wonders, Christine accepted a personal check from me for the entire purchase price! Yes, the check was good, and we followed her to her home in a nearby trailer park to get the title and a few parts that went with the car.
After a few tears from Christine and we were off to Colorado Springs!
Read the next chapter HERE!