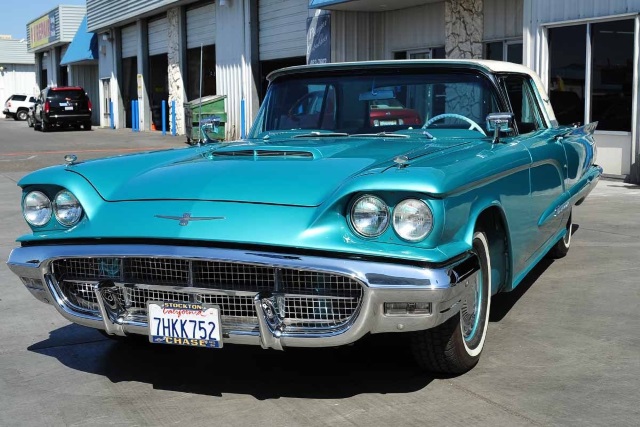 Except for the 1955 – 1957 Thunderbirds, my next T-bird favorite is the 1960 Ford Thunderbird.
Generally, I love the "square birds" with their elegant and low styling and big, heavy chrome grilles and sharp lines, but the 1960 Thunderbird really seems to integrate the styling of these years best.



Plus, over 200,000 of the "square birds were produced from 1958 – 1960, and there are many great survivors out there that are still in great shape.
The great news for the 1958 – 1960 Thunderbirds is that they're not nearly expensive as their first-generation cousins, the 1955 – 1957 "baby birds".
1960 Thunderbird – A Good Driver
Properly equipped (power steering, power brakes and automatic transmission) these big 'Birds are as drive able as a modern car. In other words you needn't be afraid about taking these beauties to the streets if you like to drive your classics!
Started The Personal Luxury Class
It's true that these Thunderbirds gained a lot of weight (up to about 3,800 lbs from 3,400 lbs), and were no longer considered (loosely) sports cars. They essentially started the "personal luxury" genre that eventually included the Buick Riviera, Oldsmobile Toronado, Buick Riviera, Pontiac Gran Prix and Chrysler Cordoba of the early 1960's and 1970's.
Values Are Flat
According to Hagerty, a #3 (Good) condition car is worth about $13,000 and the trend is flat and has been for the last 5 years. This could mean two things. Either the 1960 Thunderbird hardtop has fallen out of favor with collectors for the long term or it's poised for a nice gain in value once collectors realize that this car may be underpriced as compared to its competitors.
The 1964 Buick Riviera, which is considered a milestone car, is valued at $19,400 in #3 condition.
Big V8 power, style and Ford reliability & low prices – what's not to love about these beautiful Thunderbirds?