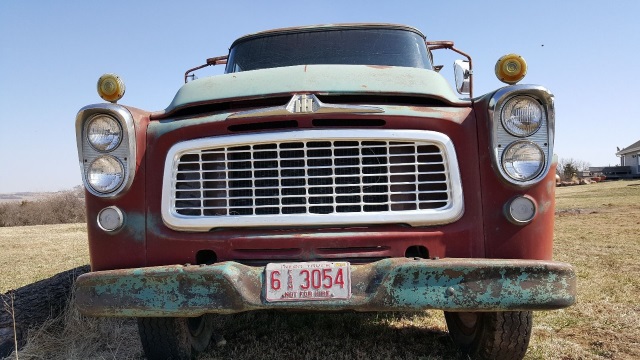 Here's a beautiful, hard-working 1959 International Harvester B162 dump truck from a farm in Valparaiso, Nebraska!
The B-line International trucks, introduced in 1959,  were a continuation of the successful  A-series, introduced in 1957.
With  Gross Vehicle Weight ratings ranging from 4,200 to 33,000 lb, these sturdy heavy haulers were up to the task of farm work without flinching!
The 1959 B series was the first to feature V8 engines – 304 and 345 cubic inches. This big guy has International's Diamond series inline six cylinder engine that was rugged, dependable and thrifty – all great attributes for farm use.
The International was very stylish for the latter half of the 1950's, and for a work truck, this was a very attractive truck for the period.
These old farm trucks are really gaining in popularity as their smaller, 1/2 ton counterparts have become quite pricey.
Even though the interior and exterior need work, this old dude has great "bones" and could really be a great start to a long-term International relationship!
Here's another International B Series truck – this one a half-ton. Not sure what year it is but looks to be late 1950's.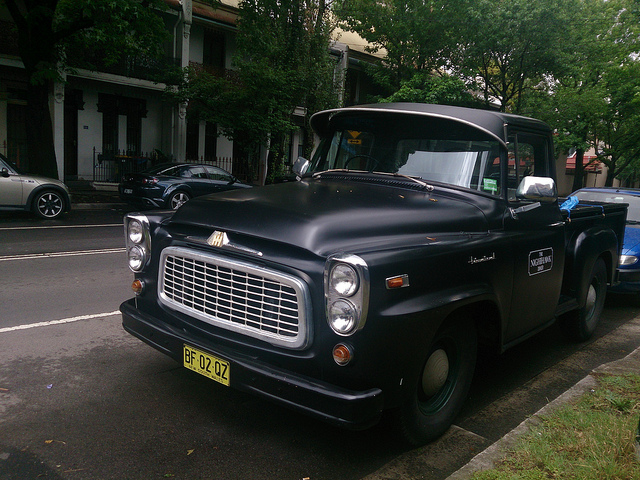 Now, the big question here – why would anyone want to have a working dump truck as a collectible?
I can think of several reasons.
Cost – while the hot collectible trucks (Chevies of the 1950's – 1970's) soar in value, many collectors are being priced out of the market. These old farm trucks are initially less desirable and can be had for a very nice price.
They're simple and tough. These old Internationals are long-lasting and are not finicky to keep running and driving. Mechanical parts are plentiful and cheap – and you can count on these old guys to fire up when you're ready to go.
You'll be the hit among your friends by having a truck that can move an entire apartment in one load! Think of all the parties you'll be invited to once people figure out what you've got!
Thanks to fotosleuth for the use of the image!