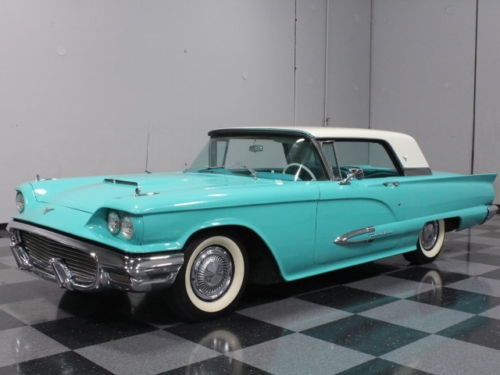 Probably one of the most attractive Thunderbirds of all time (IMHO), the 1959 Thunderbird "Squarebird" is all grace and class. Low slung and rakish by design, the '59 T-bird is a thing of beauty that can perform like a modern luxury car.
In the second year of the Thunderbird's redesign, the 1959 Thunderbird was a bigger car than the previous "baby birds" bigger even that the 1957 Thunderbird which had a lengthened trunk so it could carry a conventional spare with room in the trunk for other items.
The 1959 Thunderbird was still a relatively small car, designed with a unit body in place of a conventional frame and now able to carry four passengers in complete luxury.
Gone was the "Y block" 292 and 312 v8 engines, replaced by the first generation of Ford's 352 FE series v8 engines. Producing 300 horsepower in stock form the 1959 Thunderbird was a lively performer, even with the additional weight compared to the previous thunderbirds. Optional was a Lincoln-derived 430 cubic inch V8 MEL series engine producing 430 horsepower!
The Squarebirds were even more popular than the first generation Thunderbirds, and the 1959 Thunderbird was no exception. Sales almost doubled from 1958 to 67,456 units, including 10,261 convertibles.
If you can find a nice 1959 Thunderbird, prices are great and they are quality-built cars. They were not hot-rodded and many were taken care of and are in great shape 61 years later!