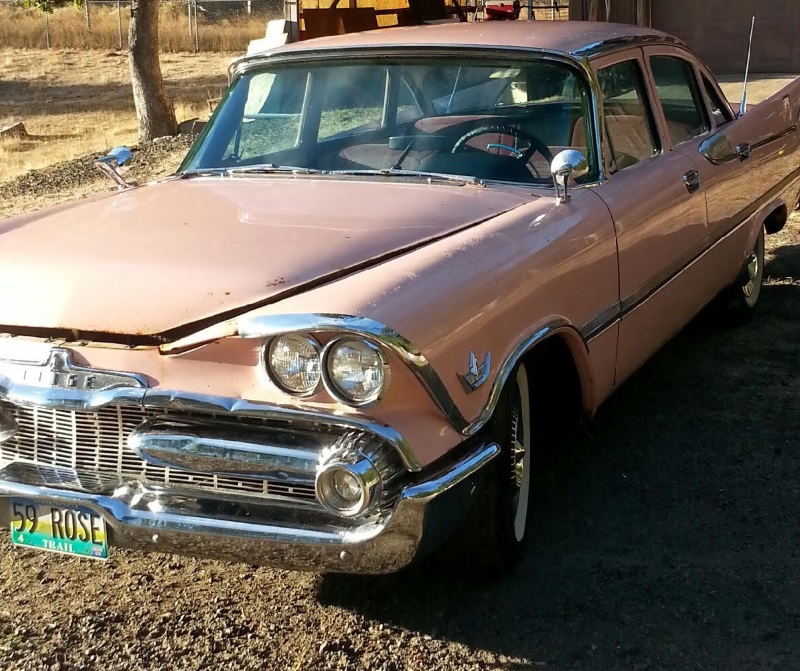 Ok – here's another of my all-time favorite 1950's front ends – the 1959 Dodge Custom Royal.
I don't care if the car in question is a 2-door hardtop, 4-door, station wagon or a convertible. I just love the entire front end and the way that Dodge put it all together to make one of the sexiest, most outrageous cars of the 1950's!



The way the "eyebrows" sneer at you, and how the wide mouth with full "lips" seems ready to eat you up – I love every bit of this front end!
Click To See More 1959 Dodges HERE
Even though this 1959 Dodge Custom Royal isn't the top of the line Custom Royal Lancer, it still has many of the options you'd want in a vintage cruiser like;
361 V8 engine
Push button automatic transmission (3-speed to boot)!
A nice period-correct color theme
Twin antennas – can it get any cooler that that?
Decent chrome
Overall presentable condition
Plus, it looks like the interior is in decent shape and there appears to be minimal rust. Coming from Oregon, this car is in nice shape!
The nice thing about 4-doors is they usually haven't been modified or abused like other body styles. In a car of this age, originality is key to value – and for the ability to make repairs and keep it running!