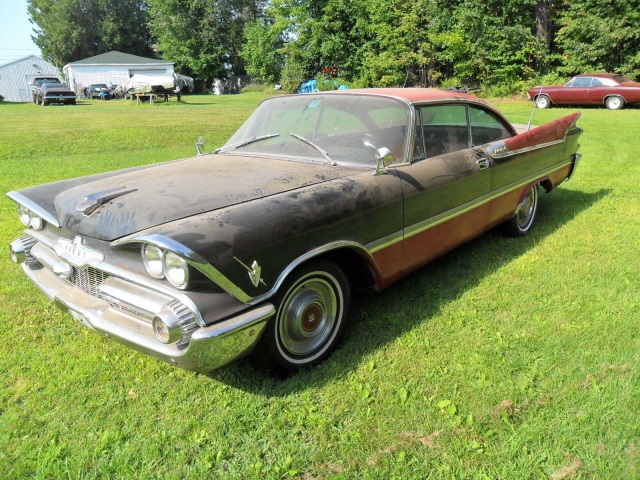 They don't come much prettier – or wilder – than this old Dodge Custom Royal Lancer from 1959. The chrome and tail fins may be some of the best looking out of the 1950's and this old Lancer is ripe for some fixin' and going to car shows!
The last big year of Virgil Exner's "Froward Look" dramatic redesign of all Chrysler Product cars from 1957, I think the 1959 Dodge car line had the best front end of ANY 1959 car line!
There were rumors (and facts for sure) that Chrysler products for the years 1957, 1958 and 1959 had quality issues and were prone to rust as the cars were rushed into production. But I think these problems were pretty much fixed by the time the 1959's were introduced.
The big, heavy and powerful first generation Hemis were gone by 1959, replaced by an efficient wedge-head 360 ci V8 with 305 horsepower and 400 ft-lbs of torque – all great numbers for the era.
And, the 1959 Dodges could be ordered with a 3-speed TorqueFlite 3-speed automatic transmission. Compare that with the reliable but horsepower-sapping 2-speed automatic from GM called the Powerglide.
Compared to the Pontiacs and Oldsmobiles of the era, these old Dodges are pretty rare. And spare parts can be tough to get. But, if you're a purist who wants "the look," – the 1959 Dodge Custom Royal Lancer is hard to beat!
Click To See More 1959 Dodges HERE