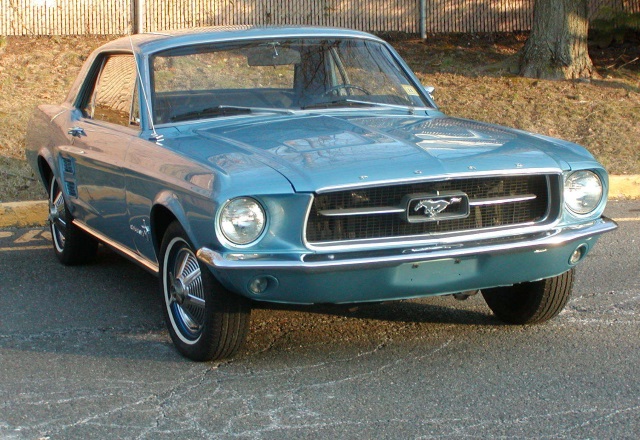 A classic 1967 Ford Mustang Coule always makes a great collector/driver. And the prices are usually pretty affordable (unless you're into exotics like hi-po fastbacks or Shelbys).
Here's a nice 1967 Mustang Coupe with a 6 cylinder. Even the smaller "6" delivers adequate performance and makes the car even that much more affordable. Plus, nobody will know you've got the smaller engine by the looks – which are great!
The 1967 Ford Mustang Coupe was the first major redesign on the hugely successful Falcon platform that made up the original 1965-1966 mustang. Longer, lower and wider, the 1967 'Stang was still on the smaller size of large for the era. But, interestingly enough, the wheelbase was the same – 108 inches!
A dual hydraulic braking system was used for the first time and the mighty 390 c.i. V-8 would fit in the engine bay – just barely!
You could still get the faithful 289 V-8 and a GT package in a Mustang Coupe in 1967 at minimal cost although the base coupe was a looker.
325,853 Standard Coupes (like this one) were made in 1967 and a fair amount have survived to this day.
This really nice example has the 120hp "6" and automatic transmission, and retailed for $2,421.46 back in 1967!
Click HERE for more 1967 Mustangs!