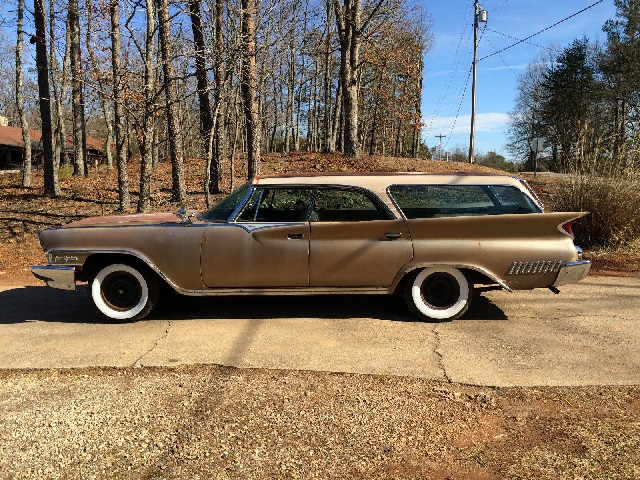 If you're a station wagon person, then you'll love the Chrysler hardtop wagons of the late 1950's and early 1960's. If you're a Chrysler lover – then you'll like this 1961 Chrysler New Yorker Station Wagon even more.
A 1961 Chrysler New Yorker for sale is a rare item indeed, but not impossible to find!



Probably one of the rarest of rare cars of 1961, this 1961 Chrysler New Yorker Station Wagon is a 4-door hardtop wagon. A total of only 1,636 New Yorker station wagons were produced in 1961. Which makes these wagons almost as rare as the 300 2-door hardtop (1,266 produced) or even the New Yorker convertible with a production run of only 576!
The Chrysler New Yorker Station Wagon – A Rare Bird Indeed!
Contrary to its competitors, Chrysler kept making very small quantities of 4-door hardtop wagons through 1964. The hardtop wagon was produced in a 6-passenger and a 9-passenger form. In 1961, Chrysler made 676 6-passenger wagons and only 760 9-passenger wagons for a total of 1,636 Chrysler hardtop wagons for 1961!
These rare Chrysler wagons weighed between 4,425 lbs and 4,455 lbs and shared a wheelbase of 220.1 inches. They were certainly large and heavy wagons, but no more so than other cars of that era.
And get this – this New Yorker station wagon originally cost between $4,764 and $4,871 in 1961! That's $40,715 to $41,630 in 2019, so this Chrysler wagon was definitely not a cheap car for 1961.
With big V8 power and all the comforts of a modern car, these old hardtop wagons are tops in collector circles! This car could have had the 413 cubic inch V8 of 350 horsepower, or maybe had the new 361 cubic inch V8 of 265 horsepower. Either engine would be just fine, with lots of torque and excellent reliability.
A Practical Collectible
This isn't some tiny coupe that would have a problem holding two adults and their belongings for a day's ride. This is an American station wagon with loads of room for just about anything you can imaging. The seats fold down, enabling a flat load floor of 6 feet or more! You can take this Chrysler to the local swap meet and bring home all your treasures to boot! It's a collectible you can use!
Hagerty Values On The Rise
With a #3 (Good) condition Hagerty valuation of $23,400 in late 2019, the Chrysler New Yorker station wagon is not cheap by any means, nor is it priced far out of reach. Values, especially for the nicer cars, are trending up so now might be a good time to acquire one of these magnificent wagons.
Click HERE to see more 1961 Chryslers now!