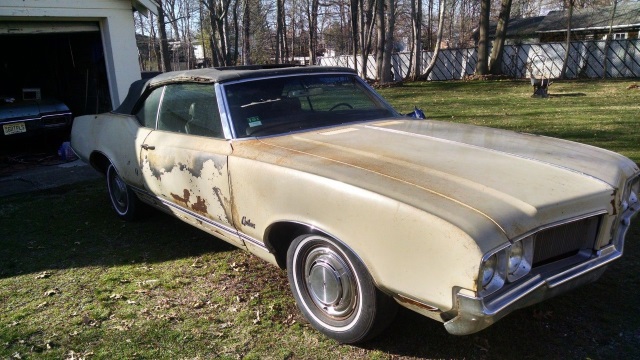 This would have to be a 1970 Oldsmobile Cutlass Supreme convertible – the top of the line!
A refined continuation of the 1968 mid-size Oldsmobile redesign, some think the 1970 model wears its new duds with some "heaviness." Nonetheless, the 1970 Oldsmobile Cutlass in any configuration was a well-built and popular mid-size that most anyone would be proud to own and drive.
We often think of the Cutlass as a Cutlass 442 – of course, not all Cutlasses were true muscle cars. But they all came with a muscular Oldsmobile "Rocket" V8 of 350 cubic inches standard that put out plenty of smooth horsepower with decent fuel economy for the times. You could even get a 455 cubic inch rocket V8 with varying levels of power far north of 400 hp!
This particular Cutlass convertible looks to be in fairly decent shape, although some rust is evident.
And, to find a 1970 Oldsmobile Cutlass Supreme convertible in unrestored condition – that's almost unheard of these days! Just looking at the photos you can see that there's not a lot of rust. But that doesn't mean there's not some rust hidden somewhere!